Accelerating Regeneration.
We are enabling the regeneration of our most valuable assets – soils and communities, by working closely with nature and clean technology to enable ecosystems function at optimum best and address climate change, one rural farming community at a time
Connecting the dots between soils, farmers, communities. Mobilizing them as forces for good to solve the prevailing problems of soil degradation and food insecurity.
Accelerating regenerative agriculture in conventional rural farming communities.
Our mission was birth from a trigger. Sometime in 2017, we were drawn to the sad news of an intermittent collapse of valuable food factories. So we pulled the trigger and embarked on a quest to understand what elements were at play. As initial researchers and tourists, we landed in sugarcane and non-sugarcane farming communities on the premise that an increase in raw material supply could reliably feed the factories into stable operation. However, in our moment of epiphany, restoring the degrading soils and ecosystems plaguing the rural farming communities will bring our mission full circle.
      Our discovery: creating true systemic change within the agri-food chain is predicated on the circularity and good combination of the elements of Soil, Farmer and Community. Having a better understanding of their interconnectedness produces more relevant and robust solutions to feeding the world and enabling more farmers cross over into commercial farming and growing income.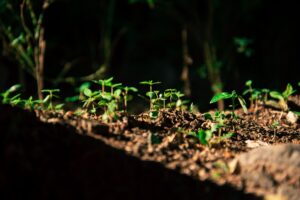 Regenerative Agriculture Zens (Regen Zen)
Leveraging Clean Technology + Regenerative agriculture systems
One Rural Farming community at a time
In our Regenerative Agriculture Zens, small-scale zones are set up within our partner rural farming communities anchored by 3 major elements (highlighted on the right). They are tailored solutions we provide to address and support our Soils, Farmers, Community.
(Our three-pronged approach to reversing soil degradation and food insecurity). 

You can't dismiss the great connection and rapport you feel meeting other like minded regenerative farmers who are passionate about what they grow and eat. It is a meet and grow!
It feels good knowing I am playing an important role in fighting climate change, fixing stable carbon into my farmlands whilst improving my soil health with Sabon Terra
Working with the Regenerative Farmer Network provides me a reliable and timely supply of organic vegetables for local market distribution.
Subscribe To Stay Informed
Keep up-to-date with our latest restoration projects, news events, product launches, discounts, resources and more!